10 PERFECT DRINKS FOR YOUR BACHELOR PARTY
A Bachelor party presents you with one last chance to not only hang out with your buddies (unencumbered by married life) but also to have lots of fun, (AKA, drink a lot!).  Let's face it, you are going to get tired of drinking just plain ol' beer, and shots can get you into trouble a little faster than you planned, for the typical all day bachelor party festivities.  That is why we laid out this great list of 10 awesome drinks to make for your next bachelor party.
Finding the Perfect Bachelor Party Destination
First things first, before you do anything you need to decide on the perfect bachelor party destination.  If you are an international traveler I would start with things to do in Amsterdam on a bachelor weekend. If you love beer then I would suggest an awesome San Diego Beer Crawl, if you and your boys are a little more county then you can't go wrong with a bachelor party in Nashville.  I could go on all day, but laying out the best bachelor party destinations is something we will save for another post, we are here to make you hip to some of the best drinks to make during your bachelor party, least you get bored of drinking the same ol' swill or spending 12 bucks a drink at the club, check it out.
The Perfect Drinks for Your Bachelor Party Weekend
This is one of the best beer cocktails / bombers you can have on your bachelor weekend, especially if it's close to St Paddy's day. It is not only extraordinarily delicious but it's also a classic. In fact, it has been around for several decades – that's an Irish knowledge bomb. This makes it a perfect cocktail idea for your upcoming prenuptial event. An Irish car bomb is made of a combination of Bushmills, Jameson or whatever Irish Whiskey you have around, Bailey's Irish cream and Guinness.  Click the link for the recipe.
(P.S. Do NOT order this drink if you're at an authentic Irish bar. They're sensitive about the name)
It is also regarded as a shandygaff. The beauty about this cocktail is that it is easy to make, oh so tasty, great on a hot day, and perfect if you have a long night of drinking ahead.  To make this awesome beer cocktail, you need lemonade and beer. Garnish this mixture with a slice of lemon, and boom you have one tasty cocktail. PRO TIP – Add vodka to make it a Skip and Go Naked, which you will probably do after a few of these. "We're going streaking!"
Also known as Beergarita, it is one of the best hot day cocktails to have at bachelor party, especially if you decided to have it in Scottsdale Arizona during the summer (True story). It is an amazing drink that will keep you as relaxed in the Mexican sun as it will in the humid heat of Nashville.  The Beer Margarita is concocted with lime juice, sea salt, Corona (or similar mexican beer), ice, tequila, and margarita mix (sweet and sour can do).
The Black and Tan contains two kinds of beer (just in case you were bored of drinking just one kind). It is ideal for winter bachelor festivities as it contains a dark beer and a darker beer. This cocktail is "easy" to make but you will need some practice to master the art of floating one beer on top of the other – it's harder than it looks. This delicious beer cocktail contains two Irish beers; Guinness and Harp Lager, although some may argue that it is Guinness and Bass or a similar Red Ale (which it can also be).  Pour the Larger/Ale in first and carefully pour the Stout in second over an upturned spoon or Guinness Pouring Spoon if you have one laying around.
This beer cocktail has been a hit since the 60s, so you know that bad boy is going to impress!  It makes a great drink for a hot summers day, or to nurse the hangover you will nodboutetly have after a long bachelors party night. The Michelada is simple and contains; Mexican cerveza (my go to is Tecate), Tajin Seasoning Salt, Bloody Mary Mix, and lemon or lime juice.  To kick it up a notch try adding worcester and a bit of hot sauce
No, not that crap you had at Vinny's, or Larry's, or O'Drunk-a-gans, that's made up of nasty bar sweet and sour and whiskey, gross!  I am talking about a very classy classic whiskey sour that is made from; simple syrup, lemon juice, egg white, and bourbon. That combination will make you feel plenty tipsy in no time.  Hey that makes it the perfect cocktail for your bachelor party, we are here to get drunk folks, not play patty cake.
Save this one for later in the evening, let's face it, after drinking all day you are gonna get a lil tired and we are here to party all night my friend.  A classic Irish Coffee is basically Irish Whiskey and coffee with a bit of cream. This one calls for those, but also Baileys as your cream and some Kahlua to kick her up a notch.  If you want to fancy it up further, you can also add whipped cream to the top and brown sugar at the bottom. This cocktail is great if your bachelor party is in the winter and need a double dose of warmth, or you have been day drinking and are starting to hit the wall.
Simple to make but different from the usual whiskey ginger ale you might find around (also a solid drink btw). This is a great drink for those folks having a fall bachelor party because what doesn't sound better than like some crisp apple cider mixed with whiskey to warm you up in that fall weather? (sorry, no Pumpkin Spice lattes my man).  Like I said, this one is simple, just one part apple cider and one part of your favorite whiskey. We prefer Rye Whiskey here as it tends to pair better, or you can do one part cider to two parts whiskey if you are really feeling saucy!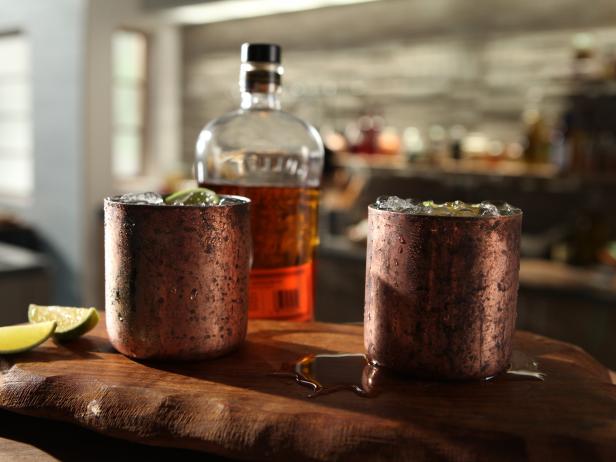 This is a twist on an old fav, the moscow mule, just switch the Moscow for Kentucky (bourbon in this case), add a dash of bitters and you are on you way to a refreshing cocktail that is manly enough for a bachelor party, yet drinkable enough to party all day (which I'll assume you're doing). The best part about it is, it's ideal for both winter and summer bachelor parties, keeps you warm or cools you off.
This is currently the new Jack & Coke (according to me, mostly). It usually matches well with decent whiskeys but try to put some Jack in one and see what happens, if that's how you get down. To make it easy you can use soda water and/or sprite, muddle cherries, sugar, and orange slices.  Beats paying $14.50 to watch some dumb mixologist craft it for you doesn't it?
Drinking and therefore cocktails are a must to have at any bachelor party. With a wide variety of options to choose from, you can never miss with this list we have armed you with.  Now get out there and impress your buddies with your woke ass knowledge of all these slick cocktails you can make for them at your next bachelor party.
Author's Bio
Hoyt M. McComber coaches in business analysis and entrepreneurship. He creates written content on Academicbrits.com and Phdkingdom.com, and he always catches the latest trends in business development and marketing. He also contributes to Originwritings.com.
Let us know what you thought of this list or if you have any cool ideas to add in the comments below.
Cheers!
The Guys @ The BroBasket