15 Simple Three Ingredient Cocktails to Make at Home Tonight
We get it, you don't always feel like going out to have a cocktail, or even going out to get ingredients.  I mean those jammies are comfy and who wants to change when you are comfy?!  Do not fret my friend, we crafted up these 15 simple three ingredient cocktails you can make at home tonight, check um out!
It's easy to get into a routine. We wear our favorite clothes over and over again. We hit up our favorite bars and restaurants on a regular basis. And when we dine at those bars and restaurants, we tend to eat the same things… but sometimes, you've got to break free from your routine and try something new.
Kids, that's what today's lesson is all about. Today we're on a mission to help you break out of your cocktail rut. Whether you're into strong mixed drinks or girly cocktails, we've put together a list of our 15 favorite easy cocktails for every rum, vodka, gin, and whiskey fan out there. No worries – you can thank us later.
You don't have to be a professional bartender. You don't have to be a master mixologist. With a few key spirits and mixers on hand, you can pour, stir, and shake up these simple three ingredient cocktails right from home.
Call them simple, call them classic…these are the easiest cocktails you'll ever make:
#1 Gin and tonic
If you're going to make a gin and tonic, do yourself a favor and go with Hendricks. It's our favorite gin out there, in fact, it's the gin that got us drinking gin in the first place.
Fill a glass with ice. Pour in as much Hendricks as you like. Top it off with tonic water and you're done. The standard ratio is 1 part gin to 3 parts tonic, so you might want to start with that. Feeling adventurous? Add in a splash of lemon juice or some freshly sliced cucumber to top it off.
#2 Vodka cranberry
One of the best things to mix with vodka is cranberry juice. Like the gin and tonic, you can make this one as vodka-heavy as you like, but the recommended ratio is about 1.5 parts vodka to 5 parts cranberry juice. It's simple as can be – just pour it over ice, mix, and enjoy. If you're in the mood to garnish, add a slice of lime.
#3 Vodka tonic
Grab some Grey Goose, get your hands on some Fever Tree tonic water, and get mixing. With 1 part vodka and 2 parts tonic water, the vodka/tonic practically makes itself. It's light, it's cool, it's clean, and it's refreshing. A lime wedge or two adds the perfect finishing touch. Not into the bitter taste of tonic water? Make it a vodka/soda with club soda or seltzer water instead.
#4 Jack and Coke and/or Rum and Coke
These two drinks are so standard that we didn't think they warranted their own slots on this list. They're so basic, they almost didn't make it at all.
Whether you're a fan of Jack Daniels, Jim Beam, or Captain Morgan, this is the drink that everyone makes stronger and stronger the more they drink it. If you're not that into whiskey or rum, start out slow with 1 part whiskey or rum to 2 or 3 parts Coke. Not in the mood to drink a glass full of sugar-filled soda? Just add more booze. Just don't mix it with diet Coke. That fake aspartame sugar adds a whole different layer of flavor (and it's not a good one).
#5 Moscow mule
We're calling it a Moscow Mule, but technically, this one would be an American mule because we're that into Tito's Vodka. Grab yourself a copper mug (it's just not a real mule without one). Add some ice. Pour 1 part vodka and 2 parts ginger beer. Squeeze in a fresh lime and enjoy!
Easy martini recipes you can try tonight: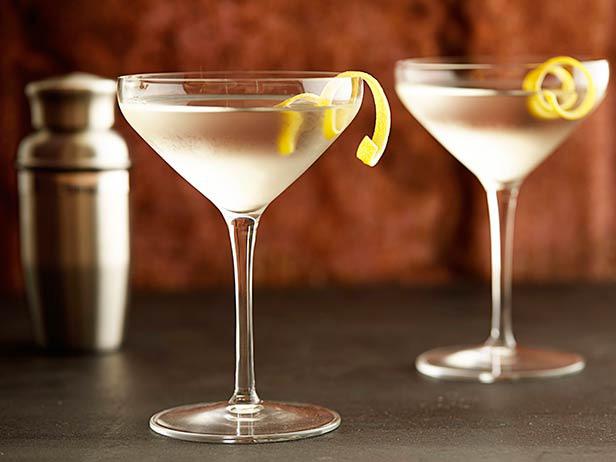 #6 Classic martini
No, you don't have to be James Bond in a white tuxedo jacket to mix up a classic martini. In our opinion, this is one of the best tasting alcoholic drinks out there – and it kind of makes us feel a bit sophisticated to boot. We prefer a gin martini, but you can use vodka if you prefer.
Combine one part gin or vodka, one part dry vermouth, and a dash of orange bitters and you're almost there. You can shake it or stir it – just make sure you chill your martini glass before you pour it in.
#7 Hollywood martini
In the spirit of la la land, the Hollywood martini looks fancy and sounds fancy – but if you know your way around town, it's not that crazy. Combine 3 ounces of vodka or gin with ½ ounce of orange liqueur (we like Grand Marnier) and ½ ounce of dry vermouth. You'll feel like a real bartender shaking this one up, and when you're drinking it, you'll feel like a screen star in an old black and white movie.
#8 Kiwi martini
Are you reading this list and thinking, I wish they would get to the fruity martini recipes? Well guess what, we're here. This is one of the most impressive 3 ingredient cocktails on this list – and that's because it's time to muddle. Skin a half a kiwi. Muddle that kiwi like there's no tomorrow. Add 2 teaspoons of simple syrup and shake. Add as much ice as you like, toss in 3 ounces of vodka, and pour. So good.
#9 French martini
If you're looking for a martini that's a bit out of the ordinary, the French martini is one of our faves. As with any martini, make sure you've got a nice chilled glass. Add 2 parts vodka or gin, 1 part pineapple juice, and ½ part Chambord liqueur. Shake it with ice, pour it into your glass, and it won't matter that you're not on the Champs-Elysees – it will feel like you're already there.
Best Mixed Drinks for Men:
#10 Old Fashioned
Ready to channel your inner old man? Then you need an old fashioned. This one is a true classic – a simple combination of whiskey and sugar is the core of this timeless drink. On the rocks or neat, this easy cocktail calls for 2 ounces of whiskey, a sugar cube or a teaspoon of finely granulated sugar, and 2 to 3 dashes of Angostura bitters. Our suggestion? Start drinking these now.
#11 Manhattan
Oh the Manhattan… the beloved Manhattan…perhaps our favorite drink of all time (and certainly our favorite on this list). A sublime combo of whiskey and sweet vermouth, this one can be as simple or as complex as you want it to be. Take 4 ounces of whiskey (we suggest Bulleit bourbon). Add 2 ounces of sweet vermouth. Add 4 dashes of Fee Brothers Aztec Chocolate bitters. You can pour it over ice or make it neat. If you're feeling adventurous, add a splash of maple syrup. You're welcome.
#12 Sidecar
Brandy mixed drinks aren't expected – but damn, when you do them right, they're everything and then some. The sidecar is the classic brandy cocktail – a mix of 1 part lemon juice, 1 part Cointreau or triple sec, and 2 parts cognac. Shake it with ice and you've got yourself one classic cocktail.
#13 White Russian
We love a White Russian when it's done right – and sometimes that means we have to make it ourselves. 1 part vodka, 1 part Kahlua, and 1 part heavy cream is all it takes. You can sub the heavy cream for whole milk, but if you're going to indulge, you may as well indulge all the way…
Girly Mixed Drinks That Guys Love Too: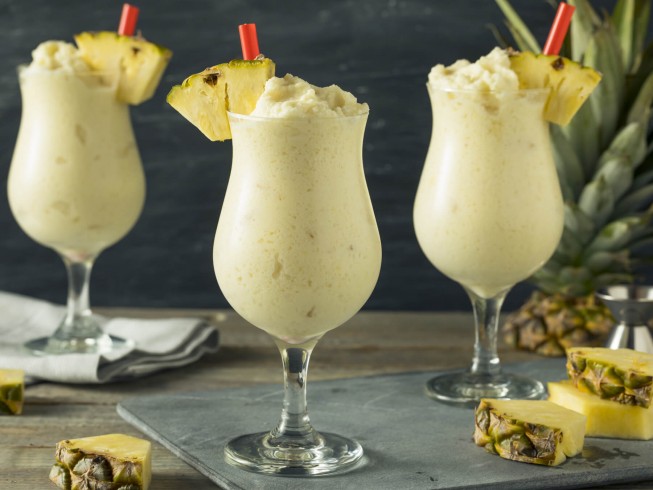 #14 Frozen Piña Colada
We're not sure why, but a lot of the women we know prefer sweet alcoholic drinks. And hey, if that's your thing, then so be it. We're not judgy. And if you're a grown man who likes a sweet cocktail, then go for it. We might make fun of you for a minute, but when it comes down to it, no one really cares what's in your glass…especially if it's a refreshing frozen Piña colada.
To make this island-inspired favorite, pour 3 cups of frozen pineapples into a blender with 3 ounces of white rum and 2/3 cup of coconut milk. Pour it in a glass and add one of those little paper umbrellas if you really want to feel the island vibes.
#15 Margarita
We're ending this list on a timeless classic that guys and girls love equally….ahhh…. the margarita. To make a good one, forgo that pre-made mix and do it the right way. Shake 4 ounces of tequila with 2 ounces of Cointreau or triple sec and 1 ½ ounces of fresh lime juice. (You can add lemon juice too if you like). Puree it in a blender. Rim your glass with salt and pour it in.
If you consider the salt an ingredient then technically this isn't a three ingredient cocktail, but since it goes ON the glass and not IN the glass, we're letting this one slide.
Let's Sum It Up….
We all have our go-to favorite drinks. We can drink them endlessly and not get out-of-control drunk. But what's the fun of that? It's time to get out of your cocktail rut and try something new. If you're a whiskey guy, it's time to try some gin. If you're a vodka drinker, break out of your shell and sample some bourbon.
There's a whole world of cocktails out there people – and there's a good chance that there are dozens of them you've never tried before. We all tend to stick with what we know and love – but every once in a while, you just have to find something new to love.
---
Show us what you got and leave a comment on what your favorite was or simple cocktail ideas that you have whipped up over the years, whether it was something fancy or Squirt and Tequila (We've all done it).
Cheers!
The Guys @ The BroBasket